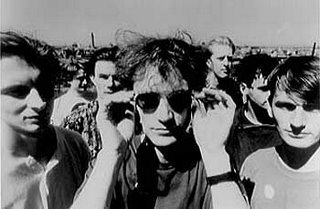 James live @ First Avenue, Minneapolis, Mn - 24 May 1994
(photo from HERE)

1. "Don't Wait That Long"
2. "P.S."
3. "Dum Jam"
4. "Say Something"
5. "Sit Down"
6. "Basic Brian"
7. "Jam J"
8. "Honest Joe"
9. "Lullaby"
10. "Dream Thrum"
11. "Five O"
12. "Laid"
13. "Born of Frustration"
14. "Sometimes"
15. "Chainmail"
16. "Laid (slow)"
17. "Ring The Bells"
18. "Sound"

Past EAR FARM Weekend Live Music has included live songs/sets by Sublime, Spoon, Ween, The Unicorns, My Bloody Valentine, New Order, Sufjan Stevens, Neutral Milk Hotel, Sonic Youth, Explosions in the Sky, The Smiths, Morphine, Talking Heads, The Stone Roses, The Cure, PJ Harvey, Pulp, The Decemberists, Blur, Nine Inch Nails, Johnny Cash, Yeah Yeah Yeahs, Led Zeppelin, Islands, Echo and the Bunnymen, Morrissey, The Durutti Column, Red Hot Chili Peppers, Giant Drag, Tool, Polvo, Mazzy Star, Meat Puppets, Squirrel Nut Zippers, Pink Floyd, Radiohead, Nouvelle Vague, Built To Spill, Thelonious Monk Quartet, Liars, Bob Marley & The Wailers, The Unicorns, Madonna, The Feelies, Ryan Adams, The Fall, The Roots, Fugazi, Band of Horses, Mountain Goats, and Robyn Hitchcock.

Each week one of these live shows will be removed to make room on the server. Get them while you can.