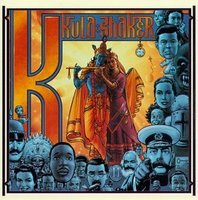 K by Kula Shaker

You know this album right? You heard it at some party back in the day and liked it so much you went out and bought it...or, your roommate had it because he was so into English music at the time that he'd buy ANYthing that came from the UK and you guys used to hang out and smoke weed and listen to it thinking "damn, so this is what the 60's sounded like". Right? No? You got it because it was the next logical step after your Oasis infatuation subsided? Or you mean to tell me you never actually listened to this album before...?

Whatever your own personal history with Kula Shaker is, I'll bet you ultimately fall into one of two categories: you either haven't heard K before, or you gave it up for dead years ago. I'm telling you that it's about time to give this album a(nother) listen. The 60's inspired psychedelic guitar jams will get you movin' and a groovin' in a way that seems strangely refreshing now that the entire music world takes its inspiration from 1979-85.

AllMusic gives the album 3 stars:
"By the mid-'90s, most bands had abandoned the sounds and sensibilities of late-'60s psychedelia, which is what makes Kula Shaker's debut album, K, such a weird, bracing listen. The band doesn't simply revive the swirling guitar and organ riffs of psychedelia, it embraces the mysticism and Eastern spirituality that informed the music. On both "Tattva" and "Govinda," lead singer Crispian Mills has adapted portions of Sanskrit text for the lyrics, chanting Indian mantras without a hint of embarrassment. Similarly, Kula Shaker are unashamed about their devotion to Hendrix, Traffic, and the Beatles, cutting their traditionalist tendencies with an onslaught of volume, overdriven guitars, and catchy melodies -- though they have a song called "Grateful When You're Dead," all of their psychedelic sensibilities derive from British rock, not the more experimental American counterpart. Kula Shaker may play well -- they have a powerful rush that makes you temporarily forget how classicist their music actually is -- but they still have trouble coming up with hooks. About half the record ("Hey Dude," "Tattva," "Govinda," "Grateful When You're Dead") has strong melodies, while the rest just rides by on the band's instrumental skills. Consequently, much of K doesn't stick around once the record is finished, but the singles remain excellent blasts of colorful neo-psychedelia."
And I'd agree with most of what is said there. Hey dude, not every album in this feature is/was 100% certified classic - far from it in fact. The (unstated) mission of the feature was to remind myself, and others, of albums from the 90's that aren't currently given the attention they're due. Be they largely unknown albums or albums that sold a relatively large number of copies...hopefully you'll find that a wide range of albums are ultimately covered here once the list is finally concluded. (When will that actually happen? Nobody knows for sure, but we've got at least another 15 to go before it's time to consider what happens next. Anyway, back to Kula Shaker.)
With a few songs that are of 5 star quality and a few that are more worthy of 2 star ratings, I'd give the album around a 3.5/5. The beauty is,
K
achieves something special when listened to in its entirity and makes for some damn near perfect warm weather music. Sure, the warm weather has not yet begun to really warm up but I'm anxious for it to happen. Play these songs loud and bring on Spring!
Listen:
#1 -
Saturnalia by The Wedding Present
#2 -
The Inevitable by Squirrel Nut Zippers
#3 -
This is Our Music by Galaxie 500
#4 -
Dusk by The The
#5 -
Fantasma by Cornelius
#6 -
New Wave by The Auteurs
#7 -
I, Jonathan by Jonathan Richman
#8 -
Futureworld by Trans Am
#9 -
Harmacy by Sebadoh
#10 -
Cure For Pain by Morphine
#11 -
God Fodder by Ned's Atomic Dustbin
#12 -
Seven by James
#13 -
Why Do Birds Sing? by Violent Femmes
#14 -
Blank-Wave Arcade by The Faint
#15 -
Dog Man Star by Suede
#16 -
Beatsongs by The Blue Aeroplanes
#17 -
Don't Try This At Home by Billy Bragg
#18 -
1992: The Love Album by Carter USM
#19 -
Time Was Gigantic...When We Were Kids by The Durutti Column
#20 -
Psalm 69 by Ministry
#21 -
The Dirtchamber Sessions, Vol. 1 by The Prodigy
#22 -
Going Blank Again by Ride
#23 -
Love At Absolute Zero by My Favorite
#24 -
Placebo by Placebo
if you'd like...
Pitchfork's top albums of the 90's
1st version of their list
Another site does their own "Overlooked of the 90's":
Top 30 'Other' Albums of the '90s