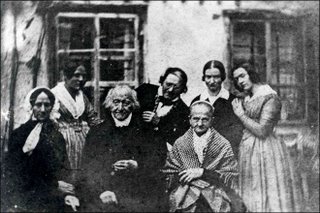 From BBC News :
"A print of the only photograph of Mozart's widow, Constanze Weber, has been found in Germany. The photograph was taken in 1840 in the Bavarian town of Altoetting when she was 78. She died two years later.

The local authorities say detailed examination has proved the authenticity of the image, which is a copy of the original daguerreotype."
So at this point you're looking at that photo all "oh...um, cool? I see...so that woman used to be the bloke toker for one of the greatest musical minds of all time. Fascinating?"
But wait! Don't get so excited just yet. According to author Agnes Selby (who literally
wrote the book
on Mozart's wife) this photo is NOT of Constanze Weber...
"I am terribly sorry to disappoint people on this forum, but this is certainly not Constanze but someone's aunt.

The whole story was concocted by Keller's grandson. It Australia we refer to such rantings as "dropping names". If with good luck for the name dropper the press gets hold of it, fame for the name dropper ensues.

Constanze Mozart was crippled by arthritis by 1840 and died in 1842. There is absolutely no way she could have travelled to visit Maximillian Keller during the period when the photograph was taken. Contrary to the statements made in the newspaper, Constanze had no contact with Keller since 1826. There is no evidence that she had corresponded with him or visited him."
Read the rest
HERE
. More debunking
HERE
, take THAT BBC News!